Details
Recommended
RECOMMENDED PRODUCT
Available on short notice!Our recommended products are ready for shipping within 2 – 11 working days.
ESCON Module 50/4 EC-S, 4-Q Servocontroller for sensorless EC motors, 4/12 A, 10-50 VDC
Part number 446925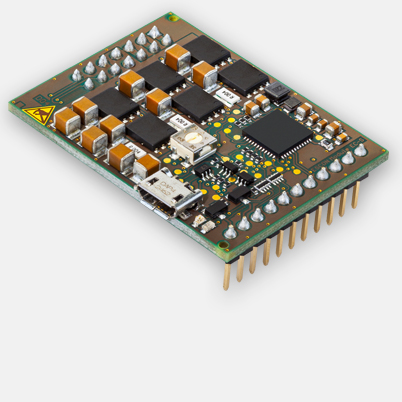 Price scales
Quantity
Price per unit
Prices excluding VAT and shipping costs
1-4
$186.00
5-19
$174.13
20-49
$161.00
from 50
On request
Specifications
Product
Weight
11 g
Motor
EC motors up to
200 W
Sensor
Sensorless (EC motors)
Yes
Operating modes
Speed controller (open loop)
Yes
Speed controller (closed loop)
Yes
Electrical data
Operating voltage Vcc (min.)
10 V
Operating voltage Vcc (max.)
50 V
Max. output voltage (factor * Vcc)
0.96
Max. output current Imax
12 A
Max. time of peak output current Imax
30 s
Continuous output current Icont
4 A
PWM clock frequency of power stage
53.6 kHz
Sampling rate PI speed controller
5.36 kHz
Max. efficiency
97 %
Max. speed (EC; 1 pole pair) block commutation
120000 rpm
Inputs
Digital inputs
2
Functionality of digital inputs
Enable, enable CW, enable CCW, enable CW+CCW, enable + direction of rotation, stop, PWM set value, RC Servo set value, fixed set value
Analog inputs
2
Resolution, range, circuit
12-bit, -10…+10V, differential
Functionality of analog inputs
Set value, current limit, offset, speed ramp
Potentiometers
1
Functionality of the potentiometers
set value, current limit, offset, speed ramp, gain, IxR factor
Outputs
Digital outputs
2
Functionality of digital outputs
ready, speed comparator, current comparator, commutation frequency
Analog outputs
2
Resolution, range
12-bit, -4…+4V
Functionality of analog outputs
current monitor,speed monitor, temperature, fixed value
Voltage outputs
Auxiliary output voltage
+5 VDC, max. 110 mA
Interface
USB 2.0 (full speed)
Yes
Display
Status indicator "Ready"
green LED
Status indicator "Error"
red LED
Protective functions
Protective functions
current limit, start-up failure, overcurrent, excess temperature, undervoltage, overvoltage, voltage transients, short-circuits in the motor cable
Ambient conditions
Temperature – Operation (min.)
-30 °C
Temperature – Operation (max.)
45 °C
Temperature – Extended Range
+45…+65°C, Derating: -0.2 A/°C
Temperature – Storage (min.)
-40 °C
Temperature – Storage (max.)
85 °C
Humidity (non-condensing) (min.)
5 %
Humidity (non-condensing) (max.)
90 %
Mechanical data
Weight
11 g
Dimension (length)
43.2 mm
Dimension (width)
31.8 mm
Dimension (height)
12.7 mm
Mounting
mountable on socket terminal strips pitch 2.54 mm
Software
Installation program
ESCON Setup
Graphical User Interface
ESCON Studio
Operating system
Windows 10, 8, 7, Windows XP SP3
Description
The ESCON Module 50/4 EC-S is a small-sized, powerful 4-quadrant PWM OEM servo controller for the highly efficient control of permanent magnet-activated brushless, sensorless EC motors without Hall sensors up to approximately 200 Watts.
Videos